4200 Litre Large feeder - Ultimate
Universal Feeders makes it easy to order your feeders online. Simply configure your feeder to meet your specific needs and add it to your Quote. Once your Quote is ready simply submit it to us from the Your Quote page and we will get in touch with you to finalise your order.
The Ultimate Series is Universal Feeders new one adjuster saliva lick feeder design (patent pending).
Over a 16 month period, Universal Feeders have been developing and testing a new saliva lick feeder concept to improve aspects affecting the lifespan of the feeder, accuracy of feeding rates and usability for both the farmer and livestock. The aim was to make a feeder that was superior to any other feeder on the market. We have always been proud of the heavy material we use and the strength of the Universal Feeder but we wanted more.

The goals of the new feeder were:
1. Not to require a bottom adjuster that is susceptible to corrosion on itself and the base
2. Make it quick and easy and to adjust rates without any spanners
3. Reduce the number of edges in feed area and enclose any external adjustment
4. Make it easier to achieve lower rates
5. Finer and more accurate adjustments
6. Design a tongue restrictor that is easy to swing away to clean the feed area

The combination of saliva, rain and dirt creates the perfect environment for corrosion. The bottom adjuster in our original design (like most conventional feeders) is bolted against the base of the feeder. This allows moisture and dirt to penetrate and stay between the two metal pieces. Eventually, this can cause rust between the base and bottom adjuster and can also cause corrosion in the bolts and cage nuts even though they are marine grade stainless steel.
Our new patent-pending one adjuster saliva lick feeder has removed the bottom adjuster completely. This means that this is now a fixed plate that is sealed at the top to prevent moisture and dirt from being able to penetrate. It has also removed the need for any bolts for adjustment being in the feeding area. With any expense on a farm or station, the lifespan determines the true cost. The longer we can make our feeders last the better.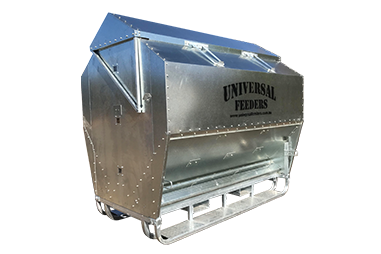 Want to know more about this product?
If you have any questions regarding Universal Feeders please make a product enquiry or call 0499 555 355
ENQUIRE NOW

Benefits of a Universal Feeder

Controlled daily intake of grain

Feeding time set by animal

Reduced feeding costs

Reduced labour costs

Reduced wastage and spillage

Controlled feeding rates