4200 Litre Large feeder
Universal Feeders makes it easy to order your feeders online. Simply configure your feeder to meet your specific needs and add it to your Quote. Once your Quote is ready simply submit it to us from the Your Quote page and we will get in touch with you to finalise your order.
The Universal Large 4200 litre feeder enables farmers to control the daily intake of grain and pellets . Easy to adjust and build very strong. Can be used as a saliva feeder or ad-lib feeder.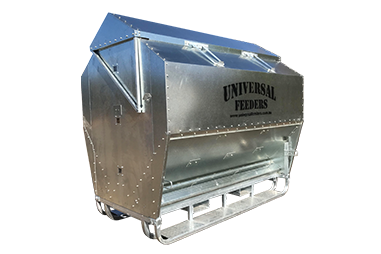 Want to know more about this product?
If you have any questions regarding Universal Feeders please make a product enquiry or call 0499 555 355
ENQUIRE NOW

Benefits of a Universal Feeder

Controlled daily intake of grain

Feeding time set by animal

Reduced feeding costs

Reduced labour costs

Reduced wastage and spillage

Controlled feeding rates